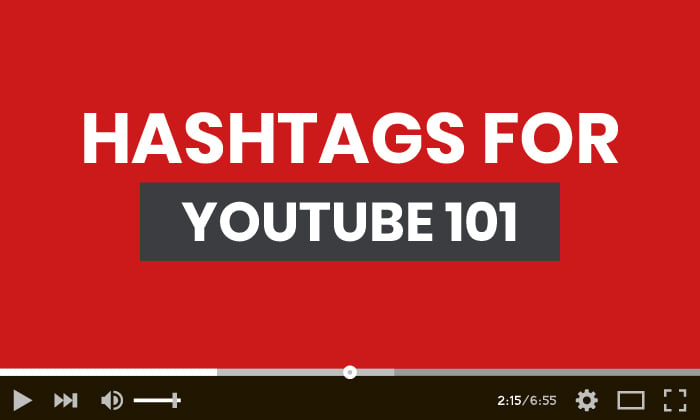 Hashtags for YouTube have evolved over the past several years. It's now easier for content creators to classify their videos and make them more discoverable, and it's simpler for viewers to find the content they want.
We're going to explore what hashtags for YouTube are, why you should use them, and how to find the best ones to help your videos appeal to the right audience.
What Are Hashtags for YouTube?
As with hashtags for other social media platforms, hashtags for YouTube are words or phrases with a hash mark, also known as a pound sign, in front of them. You'll see these hashtags in three places:
above the video title
within the video title
within the video description
As with hashtags on Instagram, Twitter, or Facebook, hashtags on YouTube inform viewers of the video's topic.
How Do YouTube Hashtags Work?
A hashtag acts as a hyperlink.
Instead of taking you to a specific website, hashtags on YouTube take you to a search results page, showing you all of the videos with that hashtag.
How to Add YouTube Hashtags
When you upload a video, you have the option of adding hashtags to the title or description. You can also add hashtags to the video itself during the editing process.
If you add hashtags to the video description or within the video, YouTube will display them above the video title in its search results.
Remember, adding a hashtag to the title isn't enough to increase views. You still need to write excellent video titles that will grab users' attention.
How to Track YouTube Hashtag Performance
Go into YouTube Analytics, click on Traffic Sources, then YouTube Search. This will display which hashtags you're using, and which have the most views.
How Viewers Use YouTube Hashtags
Viewers can search for videos on a particular topic by using hashtags in two ways:
enter a hashtag in the search bar
click on an existing hashtag
With either search method, the viewer sees a list of videos with the same hashtag in the search results.
Let's say you want to make sourdough bread. Before you try out a recipe, you want to see how sourdough is made. You go to YouTube and type #sourdough into the search bar. Dozens of results pop up. These videos are using that hashtag or phrase in their video information (the title, description, etc). The YouTube algorithm shows videos in search results based on a user's past views, video performance, engagement, etc.
Why Do YouTube Hashtags Matter?
Three reasons: the importance of YouTube and the popularity and effectiveness of hashtags.
YouTube is one of the most visited sites on the internet, with over a billion users. Millions of people use it to upload and consume content every day. It's also a powerful search engine in its own right. When people are looking for a video, they go to YouTube first.
Hashtags also allow you to classify content, thanks to their prevalence on other social media platforms. They're also practical. When you add a hashtag to your video, you give viewers a fast and easy way to categorize your video.
Using relevant hashtags also makes it easier for viewers to find your video, increase brand awareness, drive visitors to your website, and encourage conversions.
Hashtags Can Increase Video Views
I've already mentioned that hashtags make videos easier to find, but they can also increase your video views in two ways:
Your video comes up when people search for that hashtag.
People click on the hashtag when they watch a related video.
Say you put up a video about a topic such as "digital marketing." During the upload process, you tag the video with #digitalmarketing, like this video:
A day or two later, a viewer watches someone else's video about increasing conversions on their website. The video they watch is also tagged #digitalmarketing. They click the link, and a list of videos with that hashtag comes up, including yours.
How to Find the Best Hashtags for YouTube
Relevant hashtags are the key to being found on YouTube. How do you know which ones are the most relevant to users' searches? How do you choose from the hundreds of possibilities?
Search on YouTube
Start by doing some research. Think about the topics you cover. Do hashtags exist for those topics? Once you've identified the possibilities, search for them on YouTube. This search will produce old and recent results.
Find the latest videos with your chosen hashtag by filtering your search. Set the upload filter to "this month," or "this week." Once you've narrowed your search, note the videos with the most views. What hashtags are they using in addition to the one you just searched for?
You can also find relevant hashtags for YouTube by looking at your competitor's most popular videos. Using the same hashtags as those videos may give you a boost in viewership.
Use a Hashtag Generator
If you're unsure which tags are most relevant to your video, use a hashtag generator for ideas.
A hashtag generator is an internet-based tool that helps creators find the right hashtags for YouTube. Type in your video topic and the generator provides a list of possibilities.
You'll find dozens of free hashtag generators online, including:
Create a Branded Hashtag
As the term suggests, a branded hashtag features your brand's name within the hashtag—for example, #NeilPatel.
The most significant benefit of a branded hashtag is that when people click on it, they see only videos you've uploaded. Videos from your competitors won't come up—provided none of your competitors have used your branded hashtag on their videos.
Be aware that any other YouTuber may use your branded hashtag in a video that criticizes your brand, or in a video that isn't consistent with your brand's image or values. There's no copyright protection for hashtags, as I discuss below.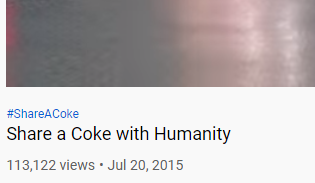 Use Location-Based Hashtags
Is your audience location-specific? You can use hashtags to target them.
With location hashtags, it's essential to be specific. While you may think of London as England's capital, 28 other cities worldwide share the name. If you're in London, Ontario, and post a video about the eight best restaurants in the city, use #LondonOntario to help local viewers find your video.
What You Need to Know About Hashtags for YouTube
Keep these five points in mind when using hashtags on your videos.
Hashtags Aren't a Guarantee of YouTube Success
YouTube makes it very clear that hashtags "… are not promises or guarantees for success."
It's not enough just to add some hashtags to your video's description or title. You must also be aware of YouTube's hashtag rules and community guidelines.
YouTube Imposes Rules for Hashtags
The primary rule of YouTube video hashtags is only to use hashtags related to your video's topic.
To increase views, you might think it's a good idea to add a hashtag related to a trending topic, even if it's unrelated to your video. It's not. You'll just turn off viewers, who may report you to YouTube. Their reports could lead to the removal of your video.
Another thing to remember is that a little goes a long way. Stuffing the description section of your video isn't going to win more views. On the contrary, YouTube will ignore any post with more than 15 hashtags.
Instead of using as many hashtags as possible, stick to three or four hashtags relevant to your topic. Consider trying the ones your competitors are using in similar, high-performing videos if it's a related phrase to your video.
Also, type your hashtags correctly, with no spaces between the words. It might sound like something small, but if you're typing quickly, you can make mistakes. If the hashtag is incorrect, you won't get in search results for the correct version.
Follow YouTube's Community Guidelines
Like other social media sites, YouTube has community guidelines to protect its users. These guidelines apply to all of the content on its platform, including video hashtags.
There are four main groups of policies:
spam and deceptive practices
sensitive content
violent or dangerous content
regulated goods
Following these guidelines for hashtags will prevent your video from being removed and you from being kicked off the platform.
Hashtags May Affect Audience Retention
Earlier in the article, I talked about how a hashtag may drive viewers to your video. If someone watches a video from another content creator with the same hashtag, the viewer may click the hashtag and be directed away from that video.
You may experience the same problem. A curious viewer might look for related content by clicking the hashtag attached to your video. This action lowers your audience retention.
To combat this issue, use branded hashtags to ensure viewers find your content, and try to use related applicable hashtags across multiple videos, so yours continue to come up in results.
You Can't Own a Hashtag
Creating a hashtag doesn't give you ownership. Yes, you can apply to trademark hashtags, but approval isn't a given. Rules about trademarking hashtags vary from country to country, so check your jurisdiction.
Even if you do trademark a hashtag, you can't expect to have exclusive use of it. There's nothing to stop other YouTube creators from using hashtags you've created—even if they're trademarked. McDonald's found this out in 2012 when a hashtag they created for Twitter backfired.
Conclusion
Hashtags for YouTube can be a free, low-effort way to drive more viewers to your videos. You'll increase your chances of success by researching the right keywords, following YouTube optimization, and tracking hashtag performance to ensure you're using the right ones.
Experiment with the type and quantity of hashtags to determine if they affect your youtube video analytics.
Which hashtags will you use to increase viewers?
The post How to Use Hashtags on YouTube appeared first on Neil Patel.